LIHUE, HI – Fifteen attorneys and an AmeriCorps Advocate were recognized for their volunteer service in providing free legal information to more than 500 Kauai residents who went to the Puuhonua Kaulike Courthouse Self-Help Center for assistance in 2018. They were honored today during a recognition ceremony attended by Chief Justice Mark E. Recktenwald.
Hawaii's first courthouse Self-Help Center was established on Kauai in October 2011 as part of the Judiciary's commitment to helping people who cannot afford an attorney and must represent themselves in civil cases. Since opening, volunteer attorneys and AmeriCorps Advocates have assisted members of the public with nearly 3,200 consultations on civil matters related to landlord tenant cases, collections, divorces, custody cases, and temporary restraining orders, at almost no cost to the public.
"I am grateful to the attorneys who generously volunteer their time at our Self-Help Center. By assisting individuals who are representing themselves in court, they help ensure that all Hawaii residents have equal access to justice," said Chief Justice Mark Recktenwald.     
"I thank each of the attorneys who volunteered, and extend special thanks to the Kauai County Attorney's Office, whose attorneys volunteered to staff the Self-Help Center a total of 25 times from January through June," said Chief Justice Recktenwald.                               
The attorneys who were honored were: Mark L. Bradbury, Matt Bracken, Nancy Budd, Katherine Caswell, Nicholas Courson, Sinclair Salas Ferguson, Jodi Higuchi, Kai Lawerence, Jay Mason (Legal Aid), Emiko Meyers, Allison Lee, Sherman Shiraishi, Adam Roversi, Teresa Tumbaga, and Linda Vass (Legal Aid).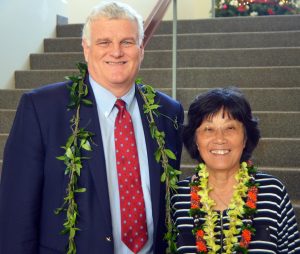 Special acknowledgment was given to AmeriCorps Advocate Sonia Song (pictured here with Chief Justice Recktenwald) who, through the Legal Aid Society of Hawaii, has run the Kauai Courthouse Self-Help Center for four years. Thanks to her efforts, the center was open five days a week in 2018.
"Sonia Song has been a mainstay for the Kauai Self-Help Center," said Chief Justice Recktenwald. "She has gone far above and beyond the call of duty to provide support and assistance to the people of Kauai needing help with their legal matters. Her dedication is second to none. She is a perfect example of the collaborative partnership that makes the Self-Help Centers work."
"Central to the success of our Self-Help Center are the volunteer attorneys who commit their time to ensure access to the legal system for everyone in our community," said Linda Vass, Managing Attorney for the Legal Aid Society of Hawaii on Kauai. "The Self-Help Center is the result of a statewide collaboration of the Hawaii State Judiciary, the Hawaii State Bar Association, the Hawaii Access to Justice Commission, and the Legal Aid Society of Hawaii.  Dozens of residents visit the Center each week for assistance with civil matters. We are so grateful to today's honorees for assisting those who cannot afford a lawyer, and we look forward to a greater number of attorneys from the Kauai Bar volunteering at the Center in the coming year."
At the Kauai Courthouse Self-Help Center, volunteer attorneys and an Americorps Advocate provide limited legal information on District and Family Court civil matters, including landlord-tenant cases, collection cases, District and Family Court temporary restraining orders, divorces, custody and other matters. Assistance may be given by providing court forms, reviewing court documents for interpretation or to ensure that the forms have been completed correctly. Additionally, volunteers try to answer as many procedural questions as possible.
Click here for more information on the Kauai Courthouse Self-Help Center.
For more information, contact the Communications and Community Relations Office at 808-539-4909 or via email at pao@courts.hawaii.gov.
Subscribe to the Hawai'i State Judiciary mailing list for email notification of press releases and other announcements.