KAUNAKAKAI, Molokai — While educators grapple with how best to address their students' safety in light of mass shootings on the mainland, Kaunakakai Elementary School on Molokai is doing what it can to prevent another form of violence – bullying – from taking ahold of its campus.
Principal Daniel Espaniola, Hamau Howe of the Parent Community Networking Center, and 319 students recently welcomed Second Circuit Judge Adrianne Heely, Detective Michael McCutcheon of the Maui Police Department, and Sheriffs Andrew Bayron and Kevin Vaivai to talk about bullying.
"How many of you know someone who has been bullied?" asked Judge Heely, a District Family Court judge who hears cases on Molokai. About 90 percent of students and teachers raised their hands. She then asked to them to pay close attention to three short videos created by the Friends of the Children's Justice Center of Maui. "Listen carefully to the words of real bullies and what could've been done and how it made them or others feel." The students noticed that the voices in the videos were both male and female, leading Judge Heely to say, "Bullies come in all types of people, boys and girls."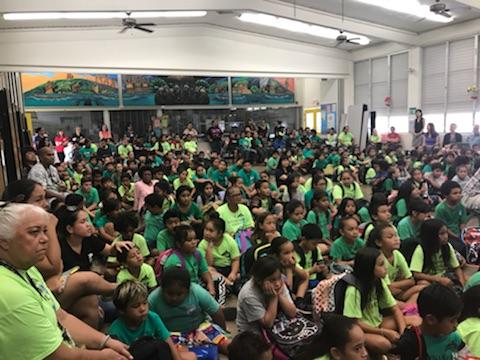 Judge Heely asked the students what to do if they witness bullying. "Speak up to a teacher, counselor, or adult," said one student.
School counselor Erin Raguindin told the students to come and talk to her because her door is always open.
Detective McCutcheon asked the students to make a pledge to "be the change" and report bullying, excessive teasing, or hitting. He said that words and actions can hurt and can be against the law. Judge Heely spoke about the golden rule – treating and speaking to others as you would want to be spoken to and treated, as murmurs of, "yes" and "amen" were heard throughout the room.
Sheriff Bayron talked about his younger years and how he chose to be the peacemaker, standing up to bullies and advocating for more reasonable ways to solve differences. He said he was recognized with a Peacemaker Award for his efforts.
Judge Heely reminded the students that Mr. Espaniola says his "primary objective is to ensure each student at Kaunakakai Elementary School receives a high quality education in a safe learning environment." That is why assemblies like this one about preventing bullying are so important.
For more information, contact the Communications and Community Relations Office at 808-539-4909 or via email at pao@courts.hawaii.gov.
Subscribe to the Hawai'i State Judiciary mailing list for email notification of press releases and other announcements.