Judge Jeffrey P. Crabtree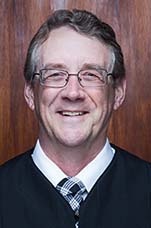 Judge Jeffrey P. Crabtree became a First Circuit Court judge on November 25, 2014.  Before becoming a judge he practiced civil litigation in Hawai'i for over 30 years.
Judge Crabtree has presided over the Domestic Violence Trials calendar, and the Felony Trials calendar. As of April 10, 2017, Judge Crabtree is assigned to the Civil Litigation/Trials Division. Effective August 1, 2017, Judge Crabtree was designated as the Senior Environmental Court Judge for the First Circuit. 
He grew up in Hawai'i, attended Williams College and the University of San Francisco (1976), and received his Juris Doctorate from New York University School of Law (1979).  He practiced in Boston and New York City before returning home in 1983.
His recent community service includes judging the annual High School Mock Trial Competition, serving as a Lecturer in Law in Consumer Protection Litigation at the William S. Richardson School of Law, and helping to teach the Professionalism Course required by the Supreme Court for all new bar members. He has published articles in the area of life-sustaining medical treatment, jury instructions in civil cases, and effective prevention against legal malpractice claims. 
He is a Judicial Advisor to the Civil Jury Trial Project at NYU School of Law, and is active with the American Judicature Society as co-chair of its Civil Justice Committee.