Joint Statements on the Passing of Chief Judge James S. Burns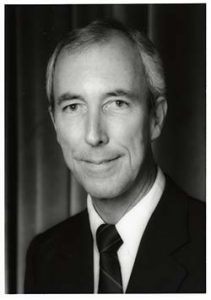 The Honorable James S. Burns, who had a distinguished judicial career spanning more than 30 years, passed away this morning. The Chief Justice, Governor, Intermediate Court of Appeals, William S. Richardson School of Law, John A. Burns School of Medicine, and the American Judicature Society provide the following statements:
"Hawai`i lost a giant of the law this morning.  Jim Burns was a wise and humble man who was always guided by his love of Hawaiʻi and a strong sense of fairness and common sense.  He was a model of integrity and always exemplified the utmost professionalism.   Even after his retirement from the bench, his exceptional work ethic and deep commitment to justice for all remained evident through his community involvement.  I am honored to say that he was my friend and mentor, and he touched so many people in our community through his wise counsel and leadership.  He was also a loving husband, father and grandfather.  On behalf of the Hawaiʻi State Judiciary, we extend our heartfelt condolences to his wife Emme, his son Brendan and daughter-in-law Pat, his daughter Meredith and son-in-law Henry Ting, and granddaughter Elizabeth."
Chief Justice Mark E. Recktenwald
Hawaii State Supreme Court
—

"Judge Burns was a great jurist, leading the effort to shape the Intermediate Court of Appeals and developing family law in the state, among his other accomplishments. He was also a tremendous community leader, and his staunch support for education was unmatched.
It's tough to be the son of a great man, and Jim achieved his own level of greatness. He left his own important legacy. On behalf of the people of the State of Hawaiʻi, I acknowledge his many accomplishments and extend our deepest sympathies to Emme and the ʻohana."
Governor David Y. Ige
State of Hawaiʻi
—
"Jim Burns is a legend at the Intermediate Court of Appeals (ICA) and is commonly regarded as the "father" of the ICA. Judge Burns was one of the three original judges appointed when the ICA was formed in 1980, and he served as Chief Judge of the ICA for 25 years.  He was responsible for establishing the culture and spirit of ʻohana at the ICA where everyone pulls together, works hard, and treats each other as family.  His profound influence on the ICA cannot be overstated.  As the Chief Judge of the ICA for most of its existence, and as a beloved colleague, friend, and mentor, he shaped and nurtured the court and inspired all who have worked here. 
We send our deepest condolences and sympathy to Jim's family. Thank for you for sharing Jim with us all these years.  He touched our hearts, and his wisdom, kindness, and devotion to the ICA will always be remembered.  We will miss him dearly." 
Chief Judge Craig H. Nakamura
Intermediate Court of Appeals
—
Judge Jim Burns was probably the humblest leader one is ever likely to meet. There can be no doubt that he led through quiet commitment and genuine concern for others. He was recognized particularly for his low key personification of integrity. A man of few, well-chosen words, practicality, and dry humor, Judge Burns nonetheless changed the law in Hawai'i in many ways as a judge, and he continued to be at the center of many varied forms of civic engagement.
The Law School was blessed over the last decade to have had him as an advisor and a constant presence for our law students and alumni—and he also did a magnificent job as the person who planted and regularly took care of native plants in our Law School courtyard.
Jim Burns was much beloved, and he uniquely and quietly inspired others.
Avi Soifer
Professor and Dean
University of Hawaiʻi William S. Richardson School of Law
—

The students, faculty, staff and Dean of the John A. Burns School of Medicine (JABSOM) today expressed great sorrow at the passing of the Honorable James S. Burns, son of the former Governor for whom the school is named.
"He has been a good friend and trusted advisor to me; someone who always had the school's best interests at heart," said Jerris R. Hedges, MD, Professor and Dean of the University of Hawaiʻi John A. Burns School of Medicine. "James Burns embodied his father's legacy, a commitment to provide educational opportunity at the highest level to the children of Hawaiʻi; a legacy cherished by every graduate of the John A. Burns School of Medicine."
Every year, without fail, Hedges noted that Burns would meet with incoming first-year medical students to tell them, first-hand, about JABSOM's history and why it is vitally important to have a medical school as part of the University of Hawaiʻi. 
James Burns served as the president and a member of the "Friends of the Medical School" organization, and on the board of the medical school's faculty practice plan, University Health Partners of Hawaiʻi.   He took part in the annual ceremonies welcoming new MD students to the school, those celebrating their graduation, and he frequently could be found on campus to meet with school leaders and chat with those studying or working at JABSOM.
 Jerris R. Hedges, M.D. 
 Professor and Dean
University of Hawaiʻi John A. Burns School of Medicine
—

"We were surprised and stunned by the passing of Judge James S. Burns. After all, he had been our leader and Chair of the American Judicature Society (AJS) Hawaii Chapter since its inception. Despite any difficulties he may have had while recovering from an earlier illness over the past few years, and as was his character, he was constantly providing strong leadership to our board and members, always available to provide timely and perceptive advice, and regularly attended meetings of the board, its committees, and its membership. He had a particularly strong commitment to judicial independence and merit selection of judges, which was evident throughout his tenure, and his commitment is a legacy that will long endure. On behalf of our board and membership, we extend our deepest sympathy to his wife, Emme, and to his family, and we want to thank him for his longstanding leadership to the AJS and its ideals."
Lawrence S. Okinaga
Former National President and Director
American Judicature Society
—
Additional background:
Judge James S. Burns was born in Honolulu and was a proud St. Louis High School graduate, class of 1955. He received his Bachelor of Science Degree from Benedictine University and his Law Degree from Villanova Law.  He served in the U.S. Army from 1962 to 1964 and the Hawaii National Guard from 1965 to 1977.  He practiced law as a solo general practitioner for 12 years and began working at the Hawaii State Judiciary as a District Court Per Diem Judge in August of 1976.  He was appointed as a Circuit Court Judge of the First Circuit by Governor Ariyoshi in May of 1977.  In 1980, he was appointed as Associate Judge of the Intermediate Court of Appeals and was named Chief Judge in 1982.  Judge Burns served on the bench for more than 30 years when he retired on April 18, 2007. 
 Links to past news articles:
End of Judge Burns' career posits a lesson http://the.honoluluadvertiser.com/article/2007/Apr/20/op/FP704200332.html 
Long Story Short with Leslie Wilcox Jim Burns: His Own Man http://pbshawaii.org/long-story-short-with-leslie-wilcox-jim-burns-his-own-man/ 
Honoring the Honorable Judge James S. Burns http://www.midweek.com/honoring-the-honorable-judge-burns/ 
Multimedia available: https://spaces.hightail.com/space/WdVPv