Court Events Commemorate Law Day
Posted on Apr 29, 2013 in Press Releases
The Hawaii State Judiciary, along with other state and federal courts and bar associations across the nation, is sponsoring activities in commemoration of Law Day on May 1. Many of the activities center on this year's Law Day theme, "Realizing the Dream: Equality for All." The theme celebrates the 50th anniversary of Rev. Martin Luther King Jr.'s "I Have a Dream" speech and the 150th anniversary of the Emancipation Proclamation.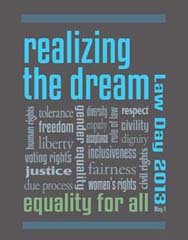 In celebration of Law Week, the Judiciary will release a series of interviews with Hawaii Supreme Court Justice Sabrina McKenna, Intermediate Court of Appeals Associate Judge Daniel Foley, First Circuit Senior Family Court Judge Mark Browning, and Fifth Circuit District Court Judge Trudy Senda on its new YouTube channel beginning April 30. Each interview is approximately five minutes long and covers a different topic of interest focused on the Law Day theme. The interviews are designed to educate the public about the role of courts in our democracy and how our legal system strives to achieve justice. The Judiciary's YouTube channel can be found at http://www.youtube.com/user/hawaiicourts.
On Oahu, the Hawaii Supreme Court Law Library is presenting a panel discussion on human trafficking in Hawaii on May 1 in downtown Honolulu at 417 South King Street. The free, one-hour event begins at noon in the Supreme Court courtroom. The panelists are Kathy Xian, the Director of the Pacific Alliance to Stop Slavery, and Bow Mun Chin, staff attorney for the Hawaii Immigrant Justice Center. For more information, call 539-4964.
Also on Oahu on May 1, guest speakers will discuss key equal rights movements and correlate the movements to events in Hawaii. The free event, "From Seneca Falls and Selma to Stonewall," will be held at 417 South King Street from 5:30 p.m. to 7:00 p.m. The speakers are: Meda Chesney-Lind, University of Hawaii Women's Studies Program Director; Connie Florez, Hula Girl Productions' Founder; William Hoshijo, Hawaii Civil Rights Commission Executive Director; and Sunny Kang, Hawaii Pacific University History Professor. To RSVP, contact the King Kamehameha V Judiciary History Center at 539-4999 or info@jhchawaii.net.
There will be free tours of the Kauai courthouse once each hour from 10 a.m. to 2 p.m. Informational displays and brochures about Family Court, District Court, Drug Court, Adult Probation, the HOPE program, and the Legal Documents Branch will be set up the in lobby. For information, call 482-2347.
Student groups are visiting the courts on the islands of Maui and Hawaii to watch a trial and meet with a judge, and judges will also visit a few classrooms.
For more information, contact the Communications and Community Relations Office at 808-539-4909 or via email at pao@courts.hawaii.gov.
Subscribe to the Hawai'i State Judiciary mailing list for email notification of press releases and other announcements.