Public Input Sought on Hawaii State Court System
Posted on Jul 23, 2012 in Press Releases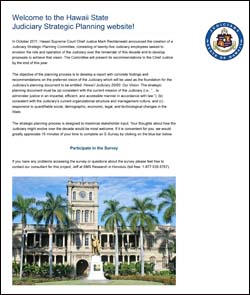 The Hawaii State Judiciary is inviting members of the public to provide input on the Hawaii state courts by completing an anonymous online survey.
The survey, which takes approximately 15 minutes to complete, is available at www.statejudiciaryplan2012.org from now until August 31, 2012.
The responses from the public, as well as from attorneys and other stakeholders, will be used to develop a strategic plan. The strategic plan will contain recommendations for Chief Justice Mark Recktenwald about how the Judiciary might most effectively achieve its mission of administering justice in an impartial, efficient and accessible manner in accordance with the law, between now and the year 2020.
Chief Justice Recktenwald views the strategic planning process as one of the most important initiatives being introduced during his term as Chief Justice.
For more information, contact the Communications and Community Relations Office at 808-539-4909 or via email at pao@courts.hawaii.gov.
Subscribe to the Hawai'i State Judiciary mailing list for email notification of press releases and other announcements.