Retired Family Court Judge Wong Honored As Jurist of the Year
Posted on Dec 22, 2009 in Press Releases
Outstanding State Court Employees Also Recognized
For O`ahu Media Release: December 22, 2009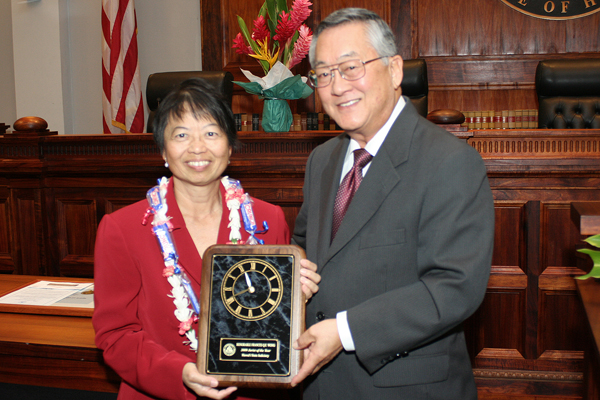 Judge Frances Wong ret. (left) receives the 2009 Jurist of the Year award from Chief Justice Ronald Moon.
During a ceremony yesterday in the Hawai`i Supreme Court courtroom, Chief Justice Ronald Moon honored recently retired First Circuit (O`ahu) Family Court Judge Frances Wong as the 2009 "Jurist of the Year."
"For over 23 years, Judge Wong has distinguished herself as an outstanding jurist. She is well-known for her hard work and hands-on leadership style," said Chief Justice Moon. "Whether the task at hand is tackling proposed rule amendments or juggling calendar assignments, you can always find her 'in-the-trenches' alongside her fellow judges and other judiciary employees."
Judge Wong served two "tours of duty" as senior judge of the Family Court, totaling 11 years. The implementation of many progressive and effective programs and projects in the Family Court have been the direct result of her leadership, vision, and commitment to Hawaii's children and families.
Also at yesterday's ceremony and at ceremonies held on the Big Island, Maui and Kaua`i, several Judiciary employees were recognized for their outstanding contributions to the court system.
Third Circuit (Big Island) Chief Court Administrator Lester Oshiro received the Distinguished Service Award, the highest award presented under the Hawai`i State Judiciary's Incentive Awards Program.
Receiving the Meritorious Service award was Gloria Yoshimoto of the Policy and Planning Department, Administration. This award recognizes employees who maintain a high level of excellence on the job.
For consistently displaying a helpful and courteous attitude to the public and to co-workers, First Circuit Probation Officer Matelina Aulava, Second Circuit (Maui) Judicial Clerk Kristi Tanaka, and Fifth Circuit (Kaua`i) Probation Officer Alexandra Thompson received a Spirit of the Judiciary award.
Roland Advincula of First Circuit's Facilities Management Branch and Third Circuit's Legal Documents and Estates and Guardianship Sections each received a Certificate of Commendation Award.
# # #
Contact: Marsha Kitagawa, 539-4909
For more information, contact the Communications and Community Relations Office at 808-539-4909 or via email at pao@courts.hawaii.gov.
Subscribe to the Hawai'i State Judiciary mailing list for email notification of press releases and other announcements.