State Judiciary Thanks O`ahu Volunteers
Posted on Aug 14, 2009 in Press Releases
The Hawai`i State Judiciary's Volunteers in Public Service to the Courts program, aka VIPS, recognized and honored its Oahu-island volunteers at the organization's Volunteer Recognition Ceremony held on August 7 in the Supreme Court courtroom.
"The work and support of our volunteers is always valued and appreciated, but even more so during these difficult economic times," said Faith Matsuwaka, VIPS Program Manager. "When Judiciary resources have been reduced and budgets slashed, volunteers help fill in the gaps."
During this past fiscal year, VIPS' 594 volunteers contributed over 33,000 hours of service, saving the Judiciary $239,000, said Matsuwaka. Judiciary volunteers assist in many positions including clerical, facilities maintenance, accounting, law clerks, social work, probation aides, divorce education program facilitators, bar exam proctors, docents and judicial assistants.
Eight individuals who volunteered more than 500 hours during the past fiscal year were also honored during the ceremony. The names of the 500-hours or more honorees and their volunteer positions are:
Shaiw-Mei Schmidt, 734 hours
VIPS program assistant
Susan Arakaki, 707 hours
District Court entry clerk
John Nagasawa, 577 hours
'Ewa District Court judicial clerk aide
Chad Nishida, 565 hours
Office of the Public Guardian clerical messenger aide
Alvin Baker, 555 hours
District Court judicial clerk aid
Sari Sanchez, 533 hours
Ho'olokahi Project, parent facilitator
Clara Foo, 504 hours
Land & Tax Appeal Court account clerk
Mike Maeda, 500 hours
Office of the Chief Clerk bar exam proctor and clerical messenger aide
Juvenile Client Services Branch clerical messenger aide
For information on becoming a volunteer with the Hawai`i state court system on O`ahu, call 539-4880.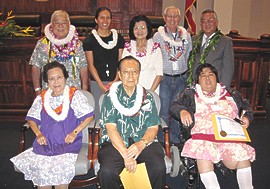 (Photo Caption) O`ahu state court volunteers who served more than 500 hours were recognized by Chief Justice Ronald Moon (back row, far right). The volunteers are (front row, from left) Clara Foo, Mike Maeda, Susan Arakaki, (top row, from left) John Nagasawa, Sari Sanchez, Shaiw-Mei Schmidt, and Alvin Baker.
Contact: Marsha Kitagawa, 539-4909
For more information, contact the Communications and Community Relations Office at 808-539-4909 or via email at pao@courts.hawaii.gov.
Subscribe to the Hawai'i State Judiciary mailing list for email notification of press releases and other announcements.