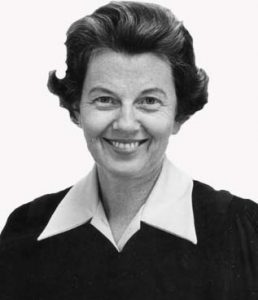 Retired Senior Family Court Judge Betty Vitousek, who was instrumental in creating a model for family courts across the country, passed away Monday morning. She was 98.
"Judge Vitousek was a person of great integrity, compassion and wisdom who shaped our Family Court into the strong institution it is today," said Hawaii Chief Justice Mark E. Recktenwald. "From encouraging mediation to developing programs to help families cope with the impacts of divorce, she was an innovator who cared deeply about Hawaii's children and families. Her many other contributions to our community included laying the groundwork for what became the Legal Aid Society of Hawaiʻi. She also served as a mentor to countless lawyers and judges. We are deeply grateful for her legacy, and send our heartfelt sympathy and aloha to her family."
In 1970, Gov. John A. Burns appointed Judge Vitousek to the newly created Family Court of the First Circuit. At that time, she was the only active female judge in the state, although there had been previously.
In 1977, she was named Senior Administrative Judge of the Family Court, where she oversaw its wide-ranging judicial services and programs. Judge Vitousek was instrumental in formulating its policies and procedures to address legal issues regarding families and children.
Judge Vitousek had a reputation for being hardworking, compassionate and fair, but firm and for treating everyone with dignity. She was also known for working collaboratively with her fellow judges and Judiciary staff while developing new programs, and making ongoing improvements   within the Family Court.
"We are deeply saddened by the passing of Judge Vitousek, one of the greatest jurists in the history of the State of Hawaii's Judiciary," said Judge R. Mark Browning, Chief Judge of the First Circuit and previously the Senior Family Court Judge. "As a jurist and as a person, she personified grace and wisdom. I and many others will miss her. We are comforted by the fact that the values that she passed to us continue to be taught to a new generation of judges and lawyers. Her commitment to the children and the families of our state and to the community as a whole is a legacy that continues today.
"I had the privilege of knowing her personally. She touched my life in a profound way, for which I am eternally grateful. Judge Vitousek will live forever in our hearts and souls," he added.
Judge Vitousek was an early advocate of mediation, working in partnership with the Neighborhood Justice Center for mediation, particularly for child custody cases. She also started "Divorce Experience," to help divorcing couples to understand the process, both legally as well as emotionally. The program included how best to consider the needs of the children. Today the program is called "Kids First" and is mandatory for couples with children.
Judge Vitousek's influence extended beyond Hawaii. She served as national president of the Association of Family and Conciliation Courts, was named a delegate to the White House Conference on Children, and served on the board of the National Council of Juvenile and Family Court judges.
During her time on the bench, she was recognized by the Legal Aid Society, Protection and Advocacy Agency, and Hawaii Women Lawyers. She was also given the 1987 Association of Family and Conciliation Courts Distinguished Service Award.
Judge Vitousek retired from Family Court in 1988.
After retiring, she continued serving the community by volunteering on numerous boards and for the Supreme Court's Appellate Mediation Program and Chief Justice's Judicial Performance Review Panel.
Betty Belle Morrison was born in Wenatchee, WA. in 1919. After graduating from Lewis and Clark High School, she attended the University of Washington, earning a bachelor's degree in sociology in 1940.
That year she traveled by ship to Japan as a delegate of the American Student Conference. While on board, she met and became friends with Roy Vitousek of Honolulu. After the war, they reconnected and were married in December 1945.
They attended law school at Stanford University and graduated together in 1948.
After graduating from Stanford, Judge Vitousek practiced adoption law for a number of years. She conducted the research which led to the formation of the Legal Aid Society of Hawaiʻi, and volunteered for numerous community organizations. She became the first executive director of the Hawaii State Bar Association and worked with Judges Gerald Corbett and Samuel King to pass legislation establishing Family Courts in Hawaii, only the second state to do so.
Judge Vitousek is survived by her sons Peter (Pamela Matson) Vitousek and Randy (Sharon) Vitousek, and daughter Kelly (Frederic Manke) Vitousek, six beloved grandchildren, and five great-grandchildren. Roy Vitousek passed away in 1994.
Services are pending.
For more information, contact the Communications and Community Relations Office at 808-539-4909 or via email at pao@courts.hawaii.gov.
Subscribe to the Hawai'i State Judiciary mailing list for email notification of press releases and other announcements.