2016 India-Hawaii Law Symposium
Posted on Jun 20, 2016 in Featured News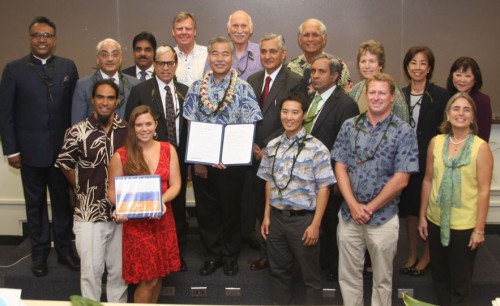 Hawaii State Judiciary justices, judges, and administrators joined distinguished judicial colleagues and representatives from the Government of India, Governor David Ige, state legislators, partners from the Department of Land and Natural Resources, and University of Hawaii (UH) deans and staff members, for the 2016 India- Hawaii Law Symposium at the UH William S. Richardson School of Law on June 16, 2016.  This year's topics were: Environmental Rule of Law, Environmental Courts, Climate, and Constitutions.
"The right to a clean and healthful environment is a fundamental interest of all people, and is explicitly recognized in the Hawaii constitution," said Chief Justice Mark Recktenwald.  "India has been a leader in developing institutions to foster the protection of the environment.  Here in Hawaii, we have also taken a proactive approach to ensuring that our judicial institutions have the capacity to reach just and consistent results in environmental cases, through the creation of our environmental courts."
One of the key recommendations by the Environmental Court Working Group was to develop educational programs and community service opportunities as sentencing alternatives to allow courts to more directly address environmental harm caused by resource violations.
Therefore, it was very fitting to have Governor Ige (pictured center) sign Act 67, or SC2453, HD1,Cd1, into law at the Symposium.  This law authorizes the court to require a person who violates certain laws pertaining to aquatic resources to complete an aquatic resources class administered by the Department of Land and Natural Resources (DLNR) in addition to or in lieu of paying a monetary fine, and to perform community service administered by DLNR in lieu of paying a monetary fine.