2015 Jurist of the Year and Employees Honored
Posted on Oct 2, 2015 in Featured News
At the Hawaii State Judiciary's 2015 Statewide Incentive Awards Ceremony on October 2, Chief Justice Mark Recktenwald (pictured on right) presented First Circuit Court Judge Richard Perkins with the 2015 Jurist of the Year Award.
The Jurist of the Year is selected annually by the Chief Justice from nominations submitted by Hawaii attorneys and Judiciary personnel. The Jurist of the Year recognizes a full-time trial judge who exhibits exceptional judicial competence, evidenced by decisional quality; significant extra-judicial contributions to the administration of justice; and active participation in public service to the community at large.
In addition to being an outstanding trial judge, mentor, and leader, Judge Perkins has played an important part in shaping Hawaii's Rules of Penal Procedure, having served as Chair of both the Permanent Committee on Rules of Penal Procedure and Circuit Court Criminal Rules and the Committee on Pattern Criminal Jury Instructions almost the entire span of his judicial career. He was instrumental as a member of the committee that reviewed Hawaii's Penal Code ten years ago, and is again serving on the committee tasked with reviewing it this year. Along with Judge Perkins' many other commitments, he has taken a leadership role in addressing the needs of individuals in the justice system with mental health issues.
"Judge Perkins is a consummate professional with keen knowledge, a strong work ethic and a deep commitment to public service," said Chief Justice Mark Recktenwald. "He is a humble and gracious person who treats all parties and counsel with respect. He has been a valued mentor to countless judges and others in the judiciary, and has earned the respect and admiration of his colleagues and the legal community."
In addition to the honoring of the Jurist of the Year, the Hawaii State Judiciary presented group and individual awards to employees who have distinguished themselves through exceptional service and accomplishments.
The awards presented at this year's ceremony and the recipients of those awards are:
Distinguished Service Award (the Judiciary's highest merit award): Hattie Embernate, Fiscal Office, Office of the Court Administrator, Third Circuit
Meritorious Service Award: Penny Shimada, Court Operations and Support, Family Court, Second Circuit; and Joyce Kajioka, Office on Equality and Access to the Courts, Office of the Administrative Director of the Courts
Group Meritorious Service Award: Fiscal Services and Procurement Offices, Financial Services Department, Office of the Administrative Director of the Courts: Jeffrey Agader, Lilia Alambatin, Tritia Cruz, Karen Donohue, Alison Higa, Kelly Kimura, Clyde Kishimoto, Grace Maeda, Wilson Mamizuka, Colleen Masaki, Patti Matsuda, Deepa Sheehan, Gary Soga, Michele Takushi, Kevin Unten, Elsie Wong, and Jonathan Wong; and Special Services Branch, Program Services Unit, Second Circuit: David Nakama, Kelli Haaff, Michelle Tanno, Alysha Tumbaga, Jandee Ferguson, Kecia Sakugawa, Jacqueline Valoy-Munoz, Nadine Oka, Charnell Casil, SheriAnn Maxwell, and Clarice Kaawa
Spirit of the Judiciary Award: Sharon Muranaka, Legal Documents Branch, Court Support & Operations Division, Third Circuit; Richard Murakami, Telecom Services Branch, IT & Systems Department, Office of the Administrative Director of the Courts; and Kurt Fukuda, Juvenile Intake and Probation, Family Court, First Circuit
Certificate of Commendation: Lani Ng of the Third Circuit's Court Operations & Support in Kona, and Celedonia "Sally" Ragmat, Legal Documents Branch 2 Court Support & Operations Division, District Court, First Circuit
Group Certificate of Commendation: Client Services, Program Services Unit, Third Circuit Court – East and West Hawaii: Aolani Mills, Jamie Bell-Kaaihue, Wendy Opiopio, Tina Haalilio, and Jendi Saldana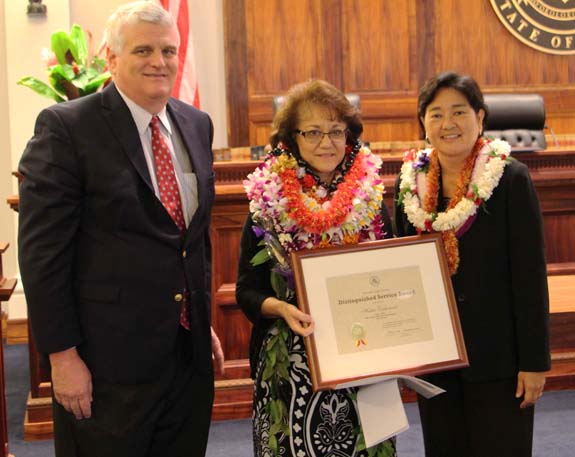 Chief Justice Mark Recktenwald (left) and Associate Judge Lisa Ginoza (right) congratulate Hattie Embernate,
Fiscal Office, Office of the Court Administrator, Third Circuit (center), recipient of the Judiciary's
2015 Distinguished Service Award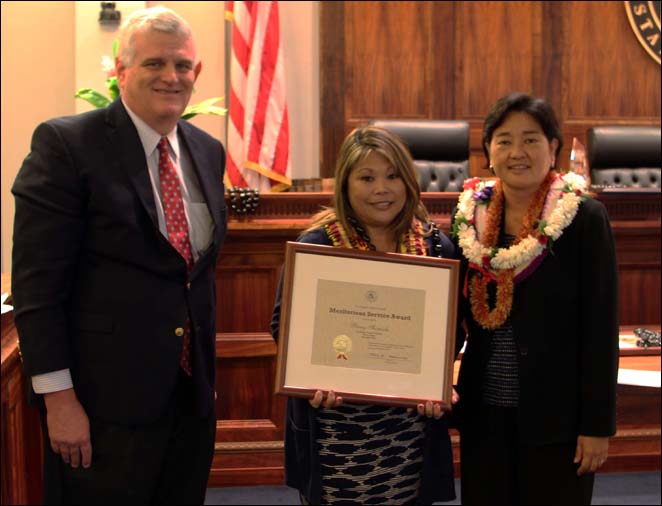 Chief Justice Mark Recktenwald (left) and Associate Judge Lisa Ginoza (right) confer the Judiciary's Meritorious Service Award to Penny Shimada, Court Operations and Support, Family Court, Second Circuit