"Jake" the Judiciary's Facility Dog
Posted on Sep 15, 2015 in Featured News
The Children's Justice Center of Oahu is happy to welcome a new member to their team; his name is Jake and he is a certified facility dog. The two-year old golden retriever was trained on Maui by "Assistance Dogs of Hawaii." Jake is providing quiet comfort to all children and their families who come to the CJC.
As you can tell from the picture below, Jake provides a warm welcome to all those who enter the doors of the CJC Oahu. For children who have been victims of abuse or neglect, coming to the CJC to talk about the trauma they have witnessed or experienced can be overwhelming and difficult.
"We make every effort to put the children and their families at ease, and now with the help of Jake, you can't help but smile," said Julie Buto, who is helping to continue to train Jake in his new setting at the CJC.
"We thank the Chief Justice, Administrative Director Rod Maile, ICRD Director Susan Gochros, Budget Director Tom Mick, Sherrie Seki and all those who supported this effort," said Jasmine Mau-Mukai. "We hope this pilot project will be a success and that we can have more facility dogs join our family at the other CJC's across the state."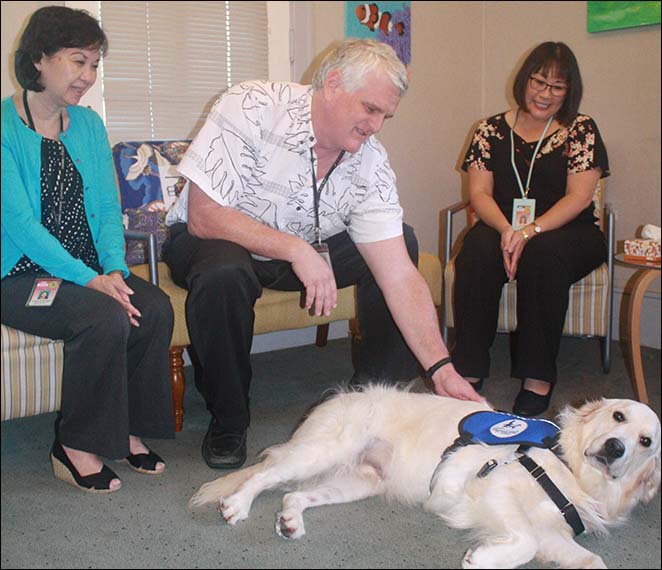 Pictured above (from left to right) is Children Justice Center's (CJC) Director Jasmine Mau-Mukai, Chief Justice Mark Recktenwald, and CJC of Oahu's Program Director Julie Buto (Jake's handler), and "Jake" the facility dog.