William Domingo Sworn In as First Circuit District Court Judge
Posted on May 19, 2015 in Featured News
Family, friends, colleagues, and supporters overflowed from the Supreme Court courtroom on Monday, May 18, 2015, as William M. Domingo was sworn in as judge for Hawaii's First Circuit (Oahu) District Court.
During the ceremony, Domingo was described as a family man, strong mentor and community leader who volunteers with the YMCA, the American Youth Soccer Organization, Boy Scouts of America and other local organizations.
The program included remarks from Gregory K. Markham, President, Hawaii State Bar Association; Judge Christine E. Kuriyama, President, Hawaii State Trial Judges Association; James A Kawachika, Chair, Judicial Selection Commission; Rep. Sylvia Luke, Hawaii State House of Representatives and Sen. Will Espero, Hawaii State Senate.
Chief Justice Recktenwald thanked Domingo for his willingness to serve the people of Hawaii. Judge Domingo then addressed the court as a judge for the first time thanking his family for their support, and thanking those who mentored him such as Retired Justice Simeon R. Acoba, Jr., Justice Richard W. Pollack, Judge Barbara Richardson and late Chief Justice William S. Richardson.
Domingo, who received his law degree from the William S. Richardson School of Law in 1985, has nearly 30 years of experience as an attorney.  Prior to becoming a judge he was in private practice.  He also served as an Assistant Federal Public Defender for the District of Hawaii and a Hawaii State Public Defender, as well as a Deputy Assistant Attorney General.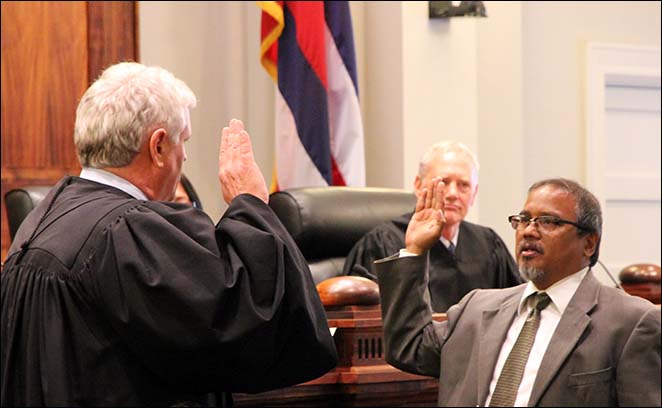 Chief Justice Recktenwald administers the Oath of Office to William M. Domingo.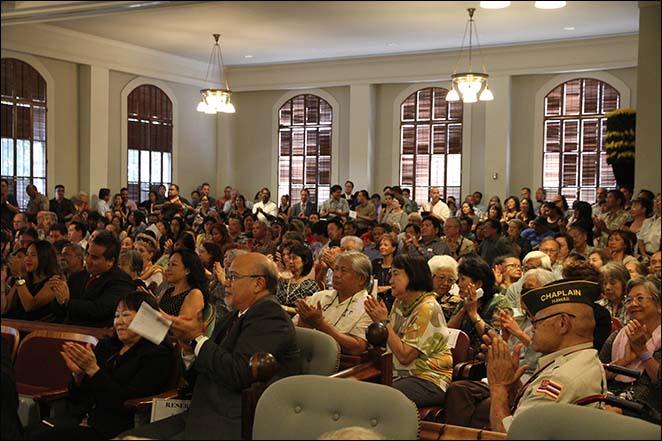 Applause for the newly sworn in Judge William M. Domingo.