Children's Justice Center Volunteer Recognized at Hawaii State Capitol
Posted on Mar 19, 2015 in Featured News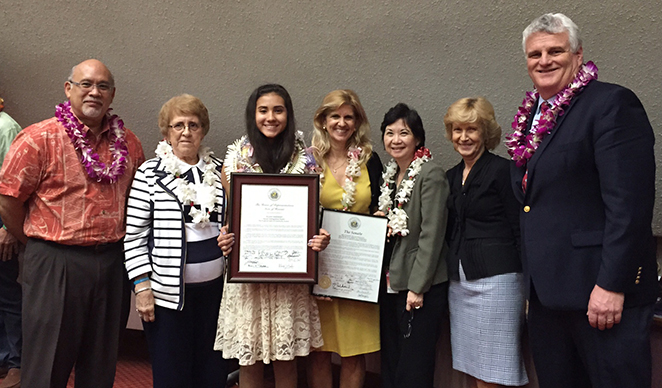 Four students were recognized at the the Hawaii State Capitol on March 17, 2015, at a joint session for the State Senate and House. These students were being honored by the Prudential Spirit of Community Awards program, the United States' largest youth recognition program based exclusively on volunteer community service.
Jillian Madanay, 17, of Honolulu, Hawaii, was one of the students recognized for her volunteerism. Jillian volunteers weekly at the Hawaii State Judiciary's Children's Justice Center of Oahu, where she helps to organize, pack and stock clothing, stuffed animals, books and toiletries for children who are victims of physical or sexual abuse. Jillian, who lives with cerebral palsy and certain physical disabilities, also helps with the annual fundraiser for "HUGS – Help, Understanding and Group Support," an organization that provides help for the families of medically fragile children, and one that provided help to Jillian and her family when she was a baby.
" We're grateful to have volunteers such as Jillian, and her mother Lauri, who spend countless hours assisting the CJC. They help enhance the lives of children who are victims of abuse, " says Jasmine Mau Mukai, CJC Director. "We are proud of Jillian and all of her accomplishments."
Pictured above from left to right: Rodney Maile, Administrative Director of the Courts; Yvonne Reese, Aunt of Student Awardee; Jillian Madanay, Student Awardee; Lauri Madanay, Mother of Student Awardee; Jasmine Mau Mukai, Statewide Director at the Children's Justice Center; Betty Myers, Grandmother of Student Awardee; and Chief Justice Mark Recktenwald, Hawaii State Supreme Court.