Big Island Launches Veterans Treatment Court
Posted on Nov 10, 2014 in Featured News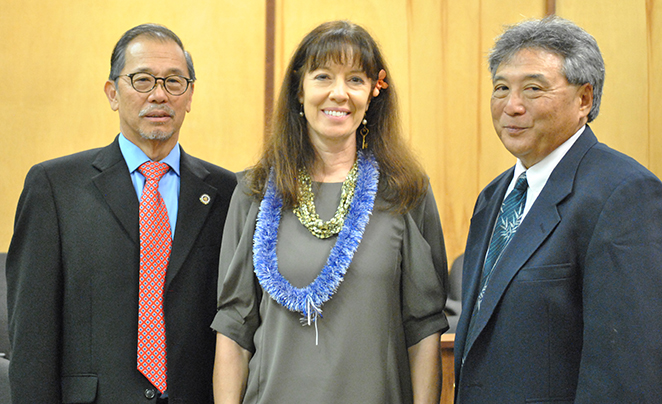 On November 10, the Third Circuit (Hawaii County) launched its Veterans Treatment Court with an opening ceremony held in the courtroom of Chief Judge Ronald Ibarra. Pictured above is Big Island Veterans Treatment Court (BIVTC) Presiding Judges Ronald Ibarra (left) and Greg Nakamura (right) posing with guest speaker Col. (ret.) Debra Lewis at the opening ceremony.
"The Big Island community is committed to helping our veterans," said Judge Ibarra. "As a specialized treatment court, we are collaborating with the Prosecutor's Office, Public Defender's Office, Hawaii Police Department, Department of Public Safety, Veterans Administration, and other organizations to give veterans struggling with mental illness and substance abuse a better chance at rehabilitation. We appreciate the commitment and dedication of these organizations, which is integral to the success of this program."
The ceremony's guest speaker was Colonel (ret.) Debra Lewis who said: "Veterans understand discipline and those with legal, substance abuse, and emotional issues are the perfect candidates for structured programs like the BIVTC that offer extra guidance. We have a commitment and need to make sure we take care of our veterans. It's also a commitment to the future generation who will serve our country and protect our freedoms."
Col. Lewis is a former commander with the U.S. Army Corps of Engineer Districts, and most recently, a State Inspector General with the Washington National Guard. Colonel Lewis has been recognized for her significant contributions with a variety of awards, including the Legion of Merit, Bronze Star Medal, Defense and Army Meritorious Service Medals, and the Army Engineer Regiment's Silver deFleury Medal.
Veterans in the program are intensely supervised and are required to make regular court appearances, as well as mandatory attendance at treatment sessions and frequent and random testing for substance use. The resources and treatment services are designed to help the veterans get healthy, find jobs, and return to being law-abiding citizens. The court will also pair them with volunteer veteran mentors to support the defendants through the process of recovery.
The Big Island Veterans Treatment Court is the second court in the state. Hawaii's first Veterans Treatment Court started in 2013 on Oahu.