Judiciary systems including JEFS, eCourt Kokua, and Document Drop-off will be unavailable due to maintenance work beginning midnight Friday, September 23, to noon, Sunday, September 25. If work is completed sooner, systems may be restored earlier. Applications, including eReminder, eJuror, and eTraffic will not be affected. Thank you for your patience and understanding.
---
Essay Contest Winners and Outstanding Volunteer Attorneys Honored
Posted on Oct 24, 2014 in Featured News
HONOLULU, HI- At a ceremony on October 23, 2014, representatives from the Hawaii State Judiciary, Hawaii State Bar Association (HSBA) and Hawaii State Legislature recognized the winners of a high school essay contest and the attorneys who helped unrepresented litigants by volunteering at a legal services provider or at one of the Access to Justice Rooms at the Honolulu District Court or Kapolei Family Court.
The event, held in the Hawaii Supreme Court courtroom, was sponsored by the Hawaii Access to Justice Commission and the HSBA as part of national Pro Bono Week. National Pro Bono Week raises awareness of the need for free legal services, especially during difficult economic times.
The officials helping to honor the students and volunteers included Chief Justice Mark Recktenwald; Justice Simeon Acoba (ret.); Hawaii Access to Justice Commission Chair Judge Daniel Foley; HSBA President Calvin Young; Senator Gilbert Keith-Agaran; Senator Gilbert Kahele; Representative Clift Tsuji; and Representative Marcus Oshiro.
The theme of the essay contest was "How to Inspire Others to Volunteer." The winners and their schools are Harley Broyles, Waimea High School; Bayani Gamit, Jr., Leilehua High School; Lisa Ishimoto, Waiakea High School; Ariana Kim, St. Andrews Priory; Joseph Kim, Maui High School; and Kelsey Uyeda, Leilehua High School.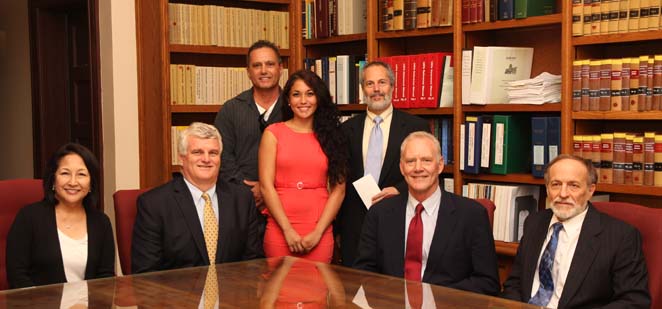 Pictured above from left to right: Associate Justice Paula Nakayama, Chief Justice Mark Recktenwald, Michael Broyles (student's father), Harley Broyles (student essay winner from Kauai County), Ron Heller (attorney from Torkildson Katz Moore Hetherington & Harris), Associate Justice Michael Wilson, and Associate Justice Richard Pollack.
The statewide essay contest was open to public and private high school students in Grades 10 through 12. Each student received a cash award of $500, which was donated by First Hawaiian Bank and each of the following law firms: Cronin Fried Sekiya Kekina & Fairbanks; McCorriston Miller Mukai MacKinnon; Rush Moore; Torkildson Katz Moore Hetherington & Harris; and Watanabe Ing.
"When I read each of the essays, it renewed my faith in the next generation of leaders. I want to thank each student for participating in this essay contest and also their teachers and families for their support of these outstanding students" said Chief Justice Recktenwald.
Outstanding volunteer law firms and attorneys were also recognized at this event. The pro bono honorees and their nominating agencies are Alton Hunt Floyd & Ing, nominated by the Hawaii Disability Rights Center; Katherine Bennett, nominated by the Mediation Center of the Pacific, Inc.; Bronster Hoshibata, nominated by the Hawaii Appleseed Center of Law and Economic Justice; Kevin Kimura, nominated by the Legal Aid Society of Hawaii; Bradley Tamm, nominated by Volunteer Legal Services Hawaii; Chris Mashiba, nominated by the Business Law Corps; and Jim Bickerton, nominated by the Native Hawaiian Legal Corporation.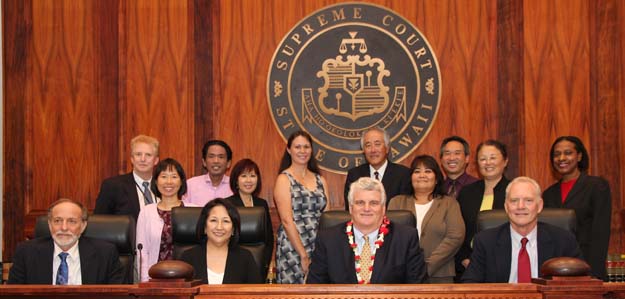 Pictured above are pro bono attorneys that serve at the Kapolei Family Court Access to Justice Rooms with Judge R. Mark Browning (Senior Judge of the Oahu First Circuit Family Court) and Associate Justices Richard Pollack and Paula Nakayama, Chief Justice Mark Recktenwald, and Associate Justice Michael Wilson.
The following law firms and individuals were honored for volunteering at the Honolulu District Court and Kapolei Family Court Access to Justice Rooms: Kevin Adaniya, Alston Hunt Floyd & Ing, Ashford & Wriston, Bronster Hoshibata, Matteo Caballero, Cades Schutte, Carlsmith Ball, Corlis Chang, Damon Key Leong Kupchak Hastert, Richard Diehl, Esther Ervin, Tred Eyerly, Goodsill Anderson Quinn & Stifel, Steven Goto, Jessi Hall, Arlette Harada, Seth Harris, Hawaii Filipino Lawyers Association, Stephen Hioki, Beverly Hiramatsu, John Hughes, Ann Isobe, James S. Burns Aloha Chapter – American Inns of Court IV, Kurt Kagawa, Curtis Kam, Mari Kishimoto, Bernice Krause, Marianita Lopez, Louis Markee, Marr Jones & Wang, Dyan Mitsuyama, Heather Moore, Mark Murakami, Mei Nakamoto, Cheryl Nakamura, Office of the Public Defender, Elizabeth Paek-Harris, Schlack Ito, Dean Soma, Starn O'Toole Marcus & Fisher, Tom Tanimoto, Jackie Thurston, Radji Tolentino, Carol Tribbey, Shannon Wack, Jefferson Willard, Yamamoto Caliboso, and Sandra Young.
"We want to thank each law firm, organization, and the individual attorneys who volunteered their time and talents to provide pro bono service," said CJ Recktenwald. "Their efforts are critical in expanding access to justice throughout our community."