Waipahu High School Students Recognized for their Community Service Project at Hale Hilinai
Posted on May 7, 2014 in Featured News
Six high school students were honored for completing a community service project at Hale Hilinai. Assisted by their mentors, the students from Waipahu High School's Cisco Academy of Information Technology installed a brand new security system at the facility. Hale Hilinai provides community-based services and programs for juveniles as part of the detention continuum, with the goal of teaching accountability and building a sense of community.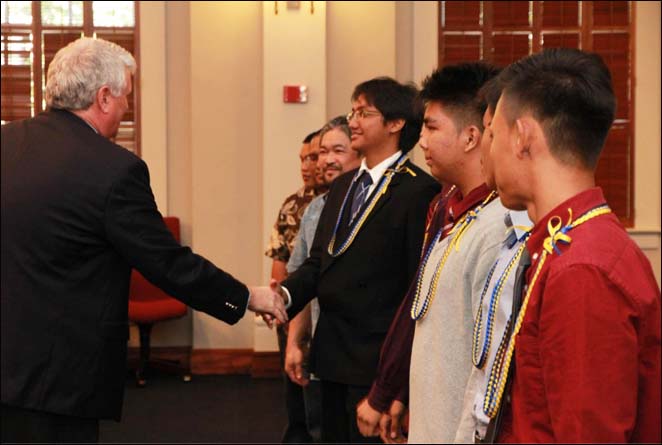 Waipahu High School students and their mentors from Communication Consulting Services, Inc. were honored by Chief Justice Mark Recktenwald at a ceremony held in the Supreme Court yesterday.
Chief Justice Mark Recktenwald thanked each student and said "We appreciate your time, service and hard work. Your efforts helped us to enhance the safety and security of Hale Hilinai and support the important programs that are based there."
"You make me proud and feel inspired. It's refreshing to see young people like you, doing such great work in our community," said Judge R. Mark Browning, First Circuit (Oahu) Chief Family Court Judge.
Judiciary ITCD staff members David Tsuruda and Eric Chang provided the technical support to ensure this project was a success. The Judiciary would also like to recognize Waipahu High School teacher Cindy Takara for her leadership. The security system and all materials were donated by Communication Consulting Services, Inc.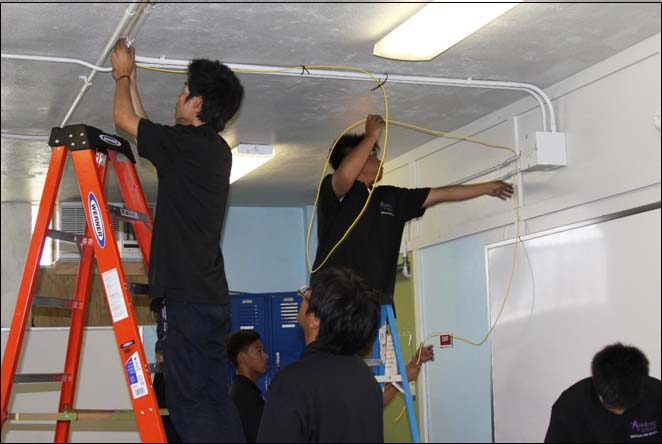 Pictured above are Waipahu High School students Cesar Catchin, Jimwel Aguinaldo, Ariel Dela Pena, John Gurrerro and Renz Sagabaen, installing security equipment in the multi-purpose room at Hale Hilinai. The multi-purpose room is often used for substance abuse treatment programs, family support groups, parenting classes and youth group activities. (Cia Monique Dela Cruz was also part of the Waipahu High School team but is not pictured here.)