14 Graduates Honored at the 55th Drug Court Graduation
Posted on May 2, 2014 in Featured News
The Hawaii State Supreme Courtroom was packed with friends, family and supporters as 14 individuals were recognized today (May 1, 2014) by First Circuit Drug Court Judge Steven Alm for successfully completing the Hawaii Drug Court program.
Judge Alm congratulated the graduates and said, "Right now, we have 210 people in the Hawaii Drug Court. Many of you may have been headed to prison, but you chose to take the road to recovery and turn your life around. You have a lot to be proud of."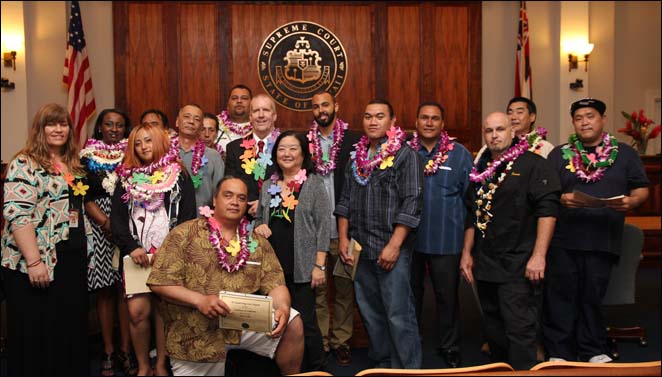 Pictured above are the new Drug Court graduates along with First Circuit Drug Court Judge Steven Alm, Drug Court Administrator Janice Bennett and Drug Court Counselor Elvira Ajanovic.

Before each graduate was called up to receive his or her certificate, Drug Court Administrator Janice Bennett offered some perspective on each individual's journey. Here is the story she read about graduate Vernon Schmidt: "Vernon entered the program on November 13, 2012. At the time of his admission, he was 50 years old and had been using drugs and alcohol since he was 15 years old. He said he was homeless, separated from his family and just felt broken."
"Vernon's commitment to his recovery is evident because he is graduating without a single program violation. That means never late for an appointment or group session and never missing or failing a drug test. Vernon now has a closer relationship with his family, works full-time in the Laborer's Union, and is a responsible member of the community," Bennett continued.
"Thank you to Judge Alm for giving me the privilege to not only be responsible, but to be held accountable," said Drug Court graduate Vernon Schmidt. "We are all modern day miracles," Schmidt said to his fellow graduates. "The miracle happened in our very lives," he added.
Offenders in the drug court program have immediate access to a court-based intensive outpatient substance abuse treatment program which also provides intensive case management and probation supervision. Program services include frequent and random drug and alcohol testing, employment and housing assistance, random home visits, strict curfew monitoring, mental health evaluation and treatment, and most importantly, frequent review hearings before the drug court judge.
Since it was established in 1995, the program has admitted 1,272 offenders. 210 offenders are currently participating and 785 have successfully graduated, with an overall completion rate of 79 percent.