Oahu Volunteers Recognized
Posted on Sep 27, 2013 in Featured News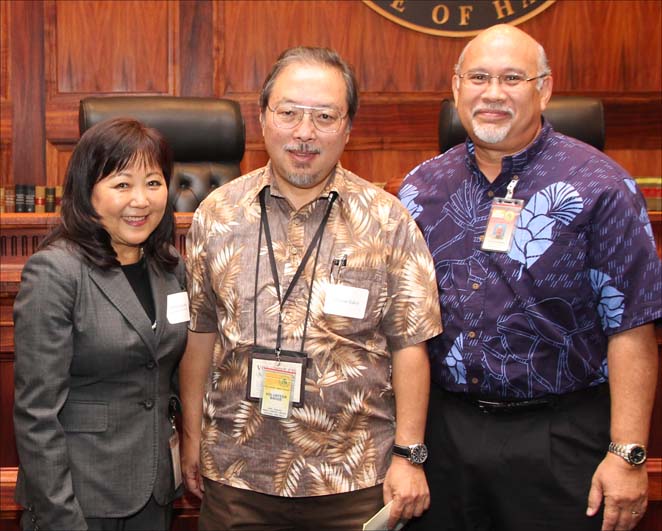 A VOLUNTEER'S VOLUNTEER–Wayne Sakai (center) was once again recognized for having
contributed over 1,000 volunteer hours in a year. Mr. Sakai is pictured with Administrative
Director of the Courts Rod Maile and Deputy Administrative Director of the Courts Iris Murayama.
The Hawaii State Judiciary formally thanked its "army" of 1,130 Oahu-island volunteers at its annual volunteer recognition ceremony held September 27 in the Hawaii Supreme Court courtroom.
"Our volunteers help us operate efficiently and effectively," said Rod Maile, Administrative Director of the Courts. "They are valued members of the Judiciary ohana."
During the past year, Oahu volunteers contributed 54,300 hours working in a variety of positions such as case aides, bailiffs, docents, clerical aides and law clerks.
The majority of volunteers work with justices and judges (183), as court appointed special advocates for children (127), at the Juvenile Detention Facility (126) and for the Kids First program (120).
The estimated value of the hours contributed by the volunteers amounts to at least $393,675, which is based on the minimum hourly wage of $7.25 per hour.
During the ceremony, Wayne Sakai received special recognition for volunteering over 1,000 hours, the most hours contributed this year. Mr. Sakai, who is a youth case aid at the Family Court Juvenile Probation Branch, has contributed the most hours of any volunteer for three consecutive years.
Eleven other volunteers were also acknowledged for working over 500 hours each during the past year. They are: Susan Arakaki, Alvin Baker, Candis Cornell, Nicole dela Sierra, Grant Fujii, Dianne Hoapili, Jeffery Moore, Royse Taniguchi, Brandi Torres, Kintaro Yonekura, and Travis Yu.
To volunteer with the state courts on Oahu, go to https://www.courts.state.hi.us/outreach/volunteer_opportunities