Drug Court Clients Help Themselves by Helping Others During National Drug Court Month
Posted on May 2, 2013 in Featured News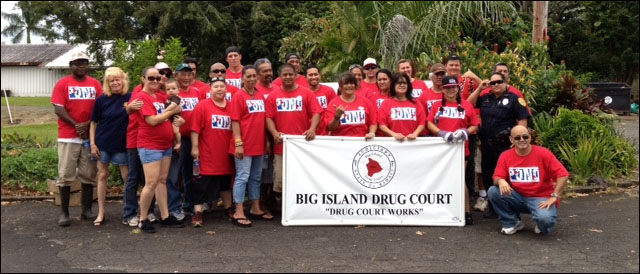 Drug Court clients on the Big Island are increasing their service to the community in celebration of National Drug Court Month in May. On Saturday, April 29, Hilo Drug Court clients, probation officers, a Community Policing Officer, the President of the Big Island Friends of the Drug Court, a Deputy Chief Court Administrator, and a Circuit judge joined the Hilo Rotary Club to spruce up and plant trees at the Boys & Girls Club of the Big Island.
"I always tell the drug court participants that since the community has invested so much in them, they have an obligation to give back to the community," said Hilo Drug Court Judge Greg Nakamura. "The participants worked hard on this project and did give back to the community. Their work was impressive."
Approximately 20 current and former clients of the Kona Drug Court program will have their chance this coming weekend when they do repairs and landscaping at the "Old A" walking path at Kona's Old Airport State Park. The Drug Court participants will be joined by Chief Judge Ronald Ibarra, District Family Judge Melvin Fujino, probation officers, police officers, members of the Friends of the Drug Court, and representatives from the Prosecutor's Office and Public Defender's Office.
The national theme for the month is, "Drug Courts: A Proven Budget Solution." Since it first started on the Big Island in 2002, 155 men and women have graduated from the Big Island program. Nationwide, Drug Courts produce cost savings ranging from $3,000 to $13,000 per client. These costs savings reflect reduced prison costs, reduced revolving-door arrests and trials and reduced victimization. Currently, there are 113 individuals enrolled in the Big Island Drug Court.
Also in recognition of National Drug Court Month, there will be a Drug Court graduation on May 9 in Hilo and on May 20 in Kona. The Big Island Drug Courts and the Drug Courts on Oahu, Maui and Kauai are programs of the Hawaii State Judiciary.