Law Day Interviews Available on Judiciary YouTube Channel
Posted on Apr 30, 2013 in Featured News
I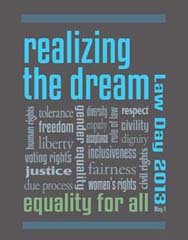 n celebration of Law Week, the Judiciary is releasing a series of audio interviews with state court judges on its YouTube channel. Each interview is approximately five minutes long and covers a different topic of interest focused on the Law Day theme, "Realizing the Dream: Equality for All." The interviews are designed to educate the public about the role of courts in our democracy and how our legal system strives to achieve justice.
Tuesday, April 30
Associate Justice Sabrina McKenna of the Hawaii Supreme Court explains the significance of Title IX.
Wednesday, May 1
First Circuit Senior Family Court Judge R. Mark Browning discusses how juveniles are treated in the family court system.
Thursday, May 2
Dan Foley, Associate Judge of the Intermediate Court of Appeals, shares how Access to Justice initiatives will help address the unmet legal needs of Hawaii residents.
Friday, May 3
Fifth Circuit District Court Judge Trudy Senda addresses the issue of fairness in state traffic court.
The Judiciary's YouTube channel can be found at http://www.youtube.com/user/hawaiicourts.