Families and Family Court Celebrate Adoption Day
Posted on Dec 31, 2012 in Featured News
On the afternoon of December 26, six Oahu Family Court judges were busy finalizing 43 adoption cases, formally ensuring that 53 children – ranging from six months to 18 years of age – became a permanent member of a loving family before the end of 2012.
Senior Family Court Judge Mark Browning and Judges Jennifer Ching, Lanson Kupau, Christine Kuriyama, Paul Murakami, and Catherine Remigio cleared their schedules to handle the adoptions.
Judge Browning scheduled the adoption day event to have as many families as possible start 2013 with "official" permanency. "Another reason is that family court judges and staff deal with a lot of tough and heart-wrenching cases," he said. "But adoptions are uplifting and a positive way to end the year."
Family Court employees decorated the courtroom doorways and counters with multi-colored balloons and festive signs proclaiming, "Adoption Day." They also donated toys and made paper leis for each adopted child and their siblings.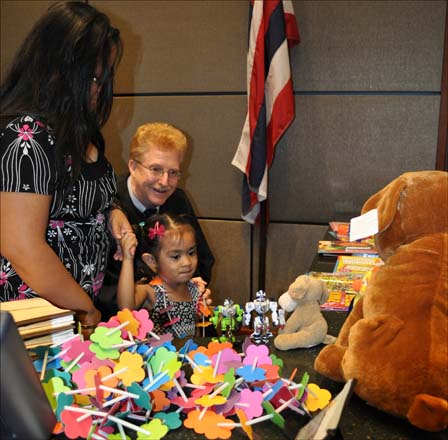 Judge Browning encouraged the children to pick any toy that catches their fancy.
A congratulatory "fist bump.""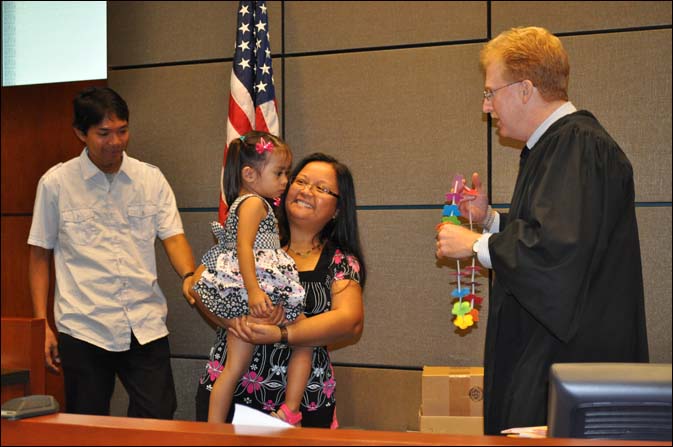 All children were welcomed by the judges with a lei hand made by Family Court employees.