Judge Hayashi Receives Award
Posted on Nov 21, 2011 in Featured News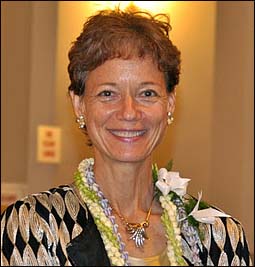 Judge Leslie Hayashi received the Judicial Innovation Award for her involvement in a District Court pilot project called Pono Kaulike. The objective of the project, which began in 2003, is to help parties reconcile after conflict, and to help victims and reduce recidivism in offenders by promoting offender empathy for victims.
The award was presented by Chief Justice Mark Recktenwald and attorney Roger Epstein, Vice President of the Hawai`i Friends of Justice & Civic Education (HFJCE), on behalf of the HFJCE, at the Parole Completion Celebration held at Al`liolani Hale.
The event is funded by a grant from the Gerbode Foundation and is held annually to recognize persons who successfully completed parole. Attendees included the friends and family of the graduates, former parolees, judges, parole board members, parole officers, lawyers, counselors and treatment providers, said Lorenn Walker, HFJCE's restorative justice coordinator.