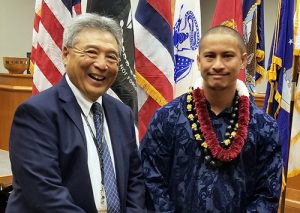 Third Circuit Chief Judge and Veterans Treatment Court Judge Greg Nakamura is all smiles as he congratulates the program's 12th graduate during a February 7, 2019 ceremony.
The Veterans Treatment Court takes a holistic approach to help restore veterans' health, families, and futures, while also saving taxpayer dollars.
Soldiers returning from Iraq and Afghanistan have demonstrably higher rates of co-occurring posttraumatic stress disorder (PTSD), traumatic brain injury, pain, and substance use disorders (SUDs), than the general population. Often, these issues are compounded by family strife, unemployment, and homelessness, which have, in some situations, led to incarceration.
Each veteran undergoes extensive treatment and counseling, including frequent urinalysis, meetings with probation officers, and court appearances. Many services rendered to these veterans are provided by the U.S. Department of Veterans Affairs (VA) at no cost to the state of Hawaii.
A 2016 study published by the Community Mental Health Journal found that veterans who participate in veterans treatment courts experience significant improvement in housing, relationships and social connection, overall functioning and well-being, depression, PTSD, substance abuse, and mental and emotional health.
For more information on the Big Island Veterans Treatment Court program call 808-443-2201.