Judge William M. Domingo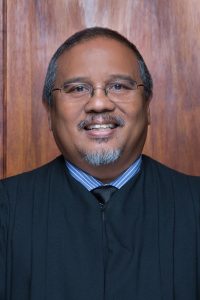 William M. Domingo was sworn in as First Circuit District Court Judge by Chief Justice Mark E. Recktenwald on May 18, 2015.  He was previously employed as a Deputy Attorney General, Deputy Public Defender, Assistant Federal Public Defender and in private practice as a criminal defense attorney.  
Judge Domingo has been temporarily assigned to the First Circuit Court since September of 2016 as the HOPE probation judge.
He is a graduate of Wallace Rider Farrington High School, the University of Hawaiʻi and the William S. Richardson School of Law and was admitted to the Hawaiʻi State Bar in 1985.