eCourt Kokua is Experiencing Technical Issues
Due to a recent software upgrade, eCourt Kokua is experiencing technical issues. The Judiciary has shut down eCourt Kokua and is working to resolve the problem. Once the issue is resolved, we are planning to bring the system back online. Thanks for your patience and understanding.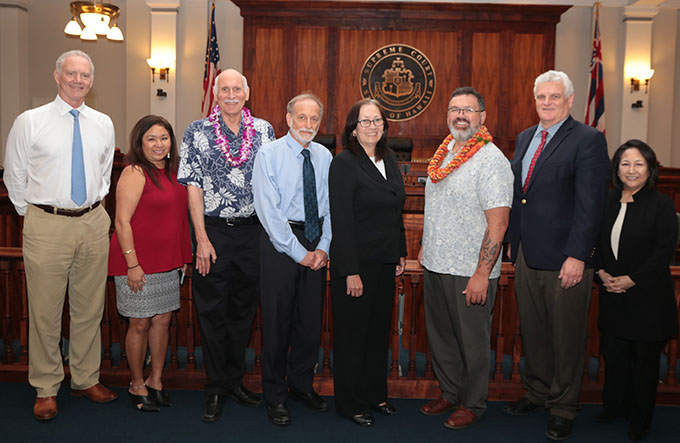 New Zealand Court of Appeal Justice Joseph Williams, this year's International Jurist-in-Residence at the University of Hawaii at Manoa William S. Richardson School of Law, met with Hawaii's Supreme Court on April 3, 2018, at the historic Ali`iolani Hale. Later in the evening, the Hawaii Supreme Court held an oral argument in the law school's Moot Courtroom, giving students and others the opportunity to witness the Hawaii Supreme Court in action.
Pictured are (from left to right):  Associate Justice Michael D. Wilson, Associate Dean Ronette Kawakami (UH Law School); Dean Aviam Soifer (UH Law School); Associate Justice Richard W. Pollack; Associate Justice Sabrina S. McKenna; Justice Joseph Williams, New Zealand Court of Appeal; Chief Justice Mark E. Recktenwald and Associate Justice Paula A. Nakayama.