Veterans Treatment Court
Veterans Treatment Court was initiated by First Circuit Judge Ed Kubo in 2013. The specialized court began with three defendants and has grown to ten defendants in 2014, as more and more attorneys submit applications for their clients to participate in the program. The defendants selected to participate in Veterans Treatment Court have all served in the U.S. Armed Forces and have experienced difficulties acclimating back into society. Many have mental health issues, including post-traumatic stress disorder, and the majority struggle with substance abuse as well.
The Veterans Treatment Court takes a holistic approach to help provide the resources and treatment these veterans need to get healthy, get employed, and return to being law-abiding citizens so they can enjoy the freedoms they fought to protect. Judge Kubo and his team have partnered with staff from US Vets and Salvation Army Addiction Treatment Services so the defendants can be evaluated and treated for mental health and substance abuse. In addition, the Court helps these defendants find housing and get job training.
The defendants are also paired with volunteer veteran mentors, who have an understanding of the difficulties these men and women are facing and help support them through the process of recovery.
While under the Court's supervision, these veterans must undergo urine analysis on a regular basis and are required to report to Veterans Treatment Court every Friday at 2 p.m., unless otherwise directed by the judge. If the defendant violates the terms of the program or his or her probation, then he or she is subject to immediate consequences and jail time to ensure accountability.
Because of the program's success, there are plans to begin expanding the Veterans Treatment Court to our neighbor island courts.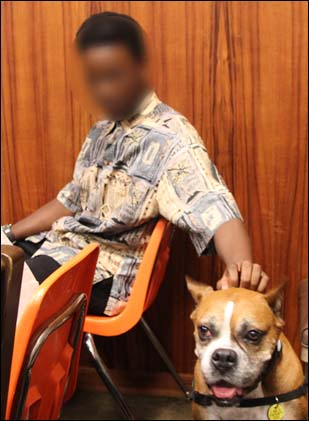 Appearing before a judge in a criminal case can be a traumatic experience for anyone, but the process can be even more difficult for veterans, many of whom have PTSD. First Circuit's Veterans Treatment Court has a new "tool" at its disposal to help its veterans while they wait to appear before the judge, and her name is Athena.
Other Related Links
Celebrating Five More Graduates From the Hawaii Veterans Treatment Court, 10-23-2015
First Veterans Treatment Court Graduation Held on Oahu, 04-20-2015
Veterans Court Honored by State House of Representatives, 07-02-2014
Mahalo for Helping Our Veterans, 03-14-2014