Courts in the Community: Hawaii Supreme Court Takes Oral Argument to Kauai
Posted on Apr 24, 2015 in Featured News
LIHUE- (Updated) On April 23, the Hawaii Supreme Court heard oral arguments at the Kauai Community College Performing Arts Center before an audience of approximately 300 students from Kauai High School, Island School, Kanuikapono Public Charter School, Kapaa High School, Kauai Christian Academy, Waimea High School and Kula Aupuni Niihau A Kahelelani Aloha Public Charter School, as well as members of the public.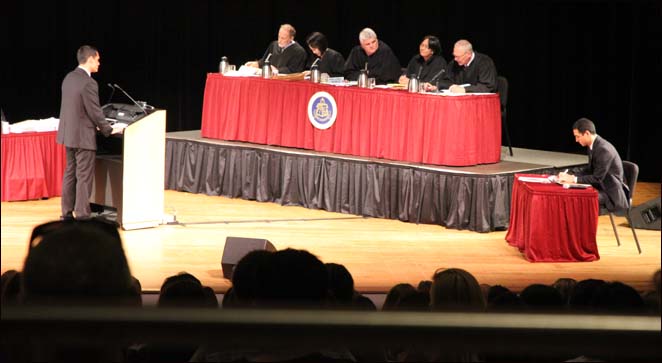 It was part of the Judiciary's Courts in the Community outreach program, which educates students and informs the general public about the Judiciary's role in government and its function in resolving disputes in a democratic society.
The court heard an oral argument for In re SHOPO v. County of Kauai and Kauai Police Department. The oral argument was followed by two separate question-and-answer sessions for the students; one with the attorneys and another with the five justices.
To prepare for the oral argument, the participating juniors and seniors from each high school studied a curriculum developed by the Kamehameha V Judiciary History Center and the Students for Public Outreach and Civic Education of the University of Hawaii's William S. Richardson School of Law. Attorneys from the Kauai Bar Association volunteered their time and facilitated a moot court activity in the participating classrooms.
"We are investing in our future generations through civics education," said Chief Justice Mark Recktenwald. "The Courts in the Community program gives students the opportunity to go beyond the textbooks and experience a Supreme Court oral argument in person. This wouldn't be possible without the commitment from the teachers, dozens of volunteer attorneys, and support from the Kauai and Hawaii State Bar Associations. We are truly grateful for these invaluable partnerships."
The Hawaii State Bar Association (HSBA) and the Hawaii State Bar Foundation generously provided the students with lunches and transportation to and from their schools across the Garden Isle.
"It is a privilege for the HSBA to be able to participate in the Courts in the Community program," said Greg Markham, HSBA President. "Our Kauai attorneys enthusiastically volunteered to visit participating classrooms for pre-event discussions and preparations. It was exciting to see the Kauai students intently following the arguments and asking very probing questions after the official court proceedings."
"This was a rare opportunity for the students on Kauai and I'm so glad we were able to be a part of it," said Angela Anderson, Kauai Bar Association President. "Along with many other Kauai Bar Association lawyers who volunteered, I had a fantastic time engaging with the students and teachers in the classrooms. It was exciting to hear how many students said they want to become lawyers or get involved in the legal field. These children are our future."