Judge Dakota K.M. Frenz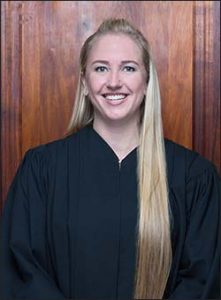 Chief Justice Mark E. Recktenwald appointed Dakota K.M. Frenz to the District Family Court of the Third Circuit (Island of Hawaiʻi).
Judge Frenz served as a Deputy Prosecuting Attorney in the County of Hawaiʻi from 2006-2012 handling cases in the district, family, and circuit courts; and since 2012 was in private practice, including criminal law, family law, and civil litigation/collections.  
Judge Frenz received her law degree from Whittier Law School in Costa Mesa, California in 2005.