The Administrative Driver's License Revocation Office (ADLRO) is responsible for:
Conducting reviews and hearings related to the administrative revocation of driving privileges of respondents arrested in violation of HRS, §291E-61 or §291E-61.5 for operating a vehicle while under the influence of an intoxicant.
Issuing review and hearing decisions, and determining the period of revocation to be imposed.
Maintaining a record of all reviews, hearings, and decisions, and making such data available to related agencies.
WHO TO CONTACT FOR INFORMATION
Clayton Zane - 534-6800
Acting Chief DUI Adjudicator
Nicole Morrison - 534-6800
DUI Assistant
NEWS
ADLRO Is Moving to New Location August 1, 2015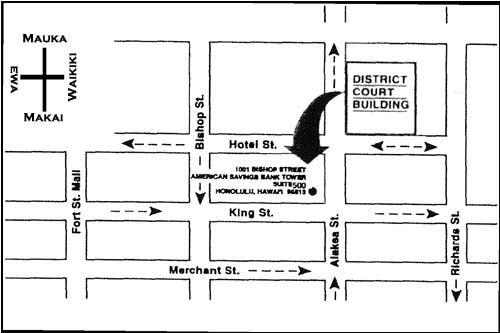 As of August 1, 2015, the Administrative Drivers License Revocation Office (ADLRO) will be moving to:
1001 Bishop Street
American Savings Bank Tower
Fifth Floor, Suite 500
Honolulu, Hawaii 96813
Parking Information:
Parking near our Honolulu Office is extremely limited. Allow yourself enough time to park your vehicle.

We do not validate any parking.
Phone & Fax numbers will remain the same:
Phone: (808) 534-6800
Calling from neighbor islands:
1-866-826-5656
Fax: (808) 534-6888
ADLRO LINKS
Contact Us
ADLRO
2875 South King Street, Suite 101
Honolulu, Hawai`i 96826-3564
Office Hours:
Monday through Friday
7:45 a.m. to 4:30 p.m.
Closed on weekends and State holidays
Telephone:
(808) 534-6800
Fax: (808) 534-6888
Toll free: 1-866-826-5656